About Kate Heyhoe
The Thirty Stages of Skullwork
Fine Art Resumé: Kate Heyhoe
PO Box 2261, Wimberley, TX 78676 (near Austin)
kate@InsideMySkull.com — website: InsideMySkull.com
Kate focuses on two main forms of art:
Dreams of the Dead Sugar Skulls: panoramic sugar skulls with tiny dioramas and LED lights
Floating Collages: 3-D; paper pieces floating on nails between pieces of vinyl tubing, on wood
Kate Heyhoe's art career began in the kitchen, using real food and kitchen tools. In 1994 she and her husband founded the first cooking website on the Internet, FoodWine.com. She's an award-winning author of books on food and wine, and is the only writer in a family of artists. In 2009, after her eighth book, she began making sugar skulls that are hollow on the inside, filled with tiny scenes, lit by LED lights, convey a narrative, and are her own unique art form. Unlike Mexico's Days of the Dead sugar skulls, Kate's skulls are long-lasting, timeless artworks, influenced by Joseph Cornell, the surrealists, and fairy tales with transgressive tendencies.
Her decorative style dates back to childhood. Her mother, Alma Shon was an artist for Stanley Marcus, designing Neiman Marcus' exclusive gift packaging for 30 years. Kate grew up playing with and eventually inheriting her mother's supplies—from paints, birds and bees to handmade papers, antique braid and ribbons. After extended caring for her mother who died at home from cancer, Kate's idea for panoramic sugar skulls popped into her head—and she banished her sadness by juxtaposing death with mirth, brightness, and the joy of playful discovery. Her "Dreams of the Dead" skulls reinforce that Death has a wry sense of humor.
Kate's "floating collages" also developed out of a childhood exposure to decorative materials, especially eye-catching paper. Behind every visual design lurks an artist, including gift wrapping, handmade rice paper, greeting cards, and wall calendars. Somebody put creativity into the design, yet sadly, we throw away these items once their usefulness has passed. Giftwrap and greeting cards are tossed out with birthday candles, wall calendars get dumped in the January trash (and both wall calendars and greeting cards are growing rarer in this digital world).
But Kate puts treasured designs and her mother's own papers to use in her skulls, and especially in her "floating collages." She invented this technique, which suspends punched paper pieces and other objects at angles and heights above the flat plane, using nails covered with vinyl tubing cut at angles. The nails are hammered into wood supports, creating 3-dimensional, multi-layered collages. They are reminiscent of David Hockney's joiners in that they challenge viewers to rethink perspective; but the associations between her layers also introduce narrative, rather than capturing just a single moment in time.
Kate is self-taught as both a cook and an artist, but was exposed to fine food and fine art all her life, and has lived in Italy and Switzerland. Her floating collages and panoramic sugar skulls are uniquely original in technique. Her skulls have appeared in four major galleries and museums in Austin, Texas. Her "floating collages" have been selected for juried exhibitions around the country.
Watch YouTube video of Kate with sugar skulls [link]
Kate's sugar skulls featured on the San Antonio Express-News website with slideshow (November 2, 2013) [link]
One of Kate's sugar skulls featured on the cover of the Austin Chronicle (October 25, 2013) [link]
Kate and her sugar skulls featured in an article in the Austin Chronicle (October 25, 2013) [link]
2012 Juried Exhibitions
"18th Annual TEXAS NATIONAL," Stephen F. Austin State University, Nacogdoches, TX (Juror: Dave Hickey, Art Critic/Author/Prof. of Art, University of New Mexico)
2011 Juried Exhibitions
1 piece selected for
The Wichita National All Media Crafts Exposition," Wichita, KS
(Juror: Chris Staley, Distinguished Professor of the Arts, Penn State University)
3 pieces selected for
"Paperworks," b.j. spoke gallery, Huntington, NY (Long Island)
(Juror: Gene McHugh, Kress Fellow, Whitney Museum of American Art, NYC)
1 piece selected for
"Regional Juried Exhibition," (Central Texas) Wimberley Valley Art League
(Juror: Annette DiMeo Carlozzi, Blanton Museum of Art, Austin, TX)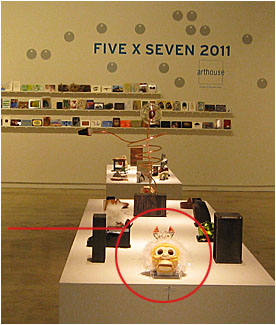 Other Group Exhibitions:
2 skulls in
"Annual 5x7 Show," Arthouse at the Jones Center, Austin, TX; 2011
"Annual 5x7 Show," Arthouse at the Jones Center, Austin, TX; 2006
Galleries (Austin, TX)
Yard Dog Gallery [CURRENT]
Mexicarte Museum
Authenticity Gallery
Commissioned Work
Molly Kemp (10 pieces), Collector
Braiden Rex-Johnson, Author
Plus additional private commissions
Reviews
In addition to making sugar skulls and floating collages, Kate has been editor of FoodWine.com since its launch in 1995, and later as Global Gourmet on both America Online and the web. Before that she was co-founder of the electronic Gourmet Guide, which launched on the web in 1994, partnered with America Online in 1995, and merged into The Global Gourmet in 1998. In 2016, Global Gourmet reverted back to FoodWine.com.
She has appeared in two national television satellite tours, as well as on CBS' The Early Show (Chef on a Shoestring segment), and other stations around the country. Hundreds of articles about Kate and/or FoodWine have appeared in media as diverse as the New York Times, Wall Street Journal, USA Today, Time, Los Angeles Times, Parade, FoodArts; WOR, Bloomberg, and Sony World Wide radio networks. She has written for Better Homes & Gardens, Saveur, Cooking Pleasures, Chile Pepper, Great Chefs, and other magazines. A graduate of the University of Texas, Kate has lived in Switzerland, Italy, Southern California, and currently in the Hill Country near Austin, Texas.
Books by Kate Heyhoe
Cooking Green
Reducing Your Carbon Footprint in the Kitchen—the New Green Basics Way
(Clarkson Potter, 2009)
Great Bar Food at Home
(John Wiley & Sons, 2007)
The Stubb's Bar-B-Q Cookbook
(John Wiley & Sons, 2007)
A World Atlas of Food
(McGraw-Hill, 2006)
Macho Nachos
50 Toppings, Salsas and Spreads for Irresistible Meals and Light Snacks
(Clarkson Potter, 2004)
A Chicken in Every Pot
Global Recipes for the World's Most Popular Bird
(Capital Books, 2003)
Harvesting the Dream
The Rags-to-Riches Tale of the Sutter Home Winery
(with Stan Hock; John Wiley & Sons, 2003)
Cooking with Kids
(IDG Books, 1999)
Current Kate's Global Kitchen
To reach Kate, email