30+ Stages of Skullwork
Casting, Skullscape, Headdress and Completion
What are Dreams of the Dead skulls?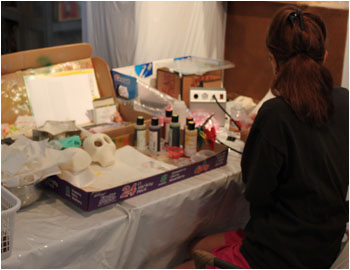 Pretty, shiny things—and other materials used. From nature come shells and fossils; bones, teeth and claws, scavenged remains from deer and small creatures felled by predators; feathers from both local wildlife and millinery suppliers. Lace and doilies, ribbons and mylar, glitter and sequins, beads and glass gems, mirrors, wire, watch parts, fishing lures. Anything that sparkles, or sparks the imagination, finds a role in the skullscape, headdress, or exterior surface. —KH
Casting the Skulls
Prepare sugar casting mixture; add color if needed
Cast sugar into front and back molds
Cure partially
Scoop out interiors
Complete curing
Drill eyes, nostrils, LED slot, headdress holes
Seal skull interiors with sugar-based coating; let dry
Seal skull exteriors with sugar-based coating; let dry
Exterior Construction—Part I
Design exterior
Cut stencils
Airbush exterior: 3-4 layers of color for aging and stencils
Interior Construction
Map out skullscape interior design for skull halves
Airbrush, stencil, paint or stamp interior designs
Spray interior halves with acrylic sealant
Handcraft assorted interior elements and backgrounds (create, draw or print, cut, paint, glitterize, glue and assemble as needed)
Affix skullscape background; let dry
Affix skullscape elements into back and front skull halves; let dry
Exterior Construction—Part II
Glue halves together; let dry
Finish off/mask skull seam
Mix sugarpaste and/or royal icing for decorations
Pipe or sculpt, dye, color and affix exterior sugarpaste and icing elements; let dry
Affix signature chop
Mix luster dust with lemon extract; handpaint sugarpaste details
Headdresses
Design, print, paint, cut, glue or sew and affix headdresses; usually happens in 6-10 stages. Materials range from feathers to foam, copper to ceramics, antique papers to original art.
Completion
Write up/print skull description.
Assemble skull with description and LED light
This page modified July 2011