"Dreams of the Dead" Sugar Skull FAQ
What are Dreams of the Dead skulls?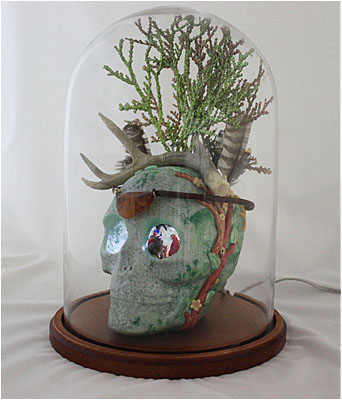 Inspired by Mexico's "Days of the Dead" sugar skulls, my Dreams of the Dead skulls are hollowed out sugar skulls, decorated not just on the outside, but crafted on the inside with panoramic scenes, illuminated by an LED light. They come in 4 sizes, from ping-pong ball to nearly life size. They are not intended for eating, but they are perfect for feeding the imagination. Each is original and unique. Some use battery-powered LEDs, others use plug-in nightlights on 6-foot cords.
How do you make them?
I employ the traditional materials used in the sugar skulls of Mexico. My skulls are cast out of sugar. Most exterior ornaments are also sugar-based, using traditional decorating media (royal icing or sugarpaste). Exteriors use food dyes or nontoxic luster (airbrushed or hand-painted or piped). Some skulls are coated with a UV- and humidity-resistant coating. Outer decorations of Mexican skulls include colored foil, beads, and ribbons; my Dreams of the Dead skulls feature an unlimited array of materials.
What do you use on the inside and outside of the skulls?
Anything, from 3-D objects, hand-tinted woodcut images, original art by the artist as well as artwork created by her late mother, vintage handmade papers, antique toys, and even copper scrub brushes, can find its ways into a skullscape or headdress.
How do you light the interiors of the skulls?
Some skulls use LED nightlights on 6-foot cords; LED replacement bulbs are available at Home Depot, Lowes and wherever nightlight bulbs are sold. Other skull use a battery-operated LED light, with replaceable coin batteries. Battery time varies, but the mini flashlights last about 25 hours (on two CR2016 lithium coin cells), and the flickering candle lights last about 50 hours (on two CR2032 lithium coin cells).
How long will a skull last?
Indefinitely under non-extreme conditions. Dreams of the Dead skulls are sealed with an acrylic coating to resist fading and humidity. For best results: Avoid UV light and avoid humid rooms (no bathrooms, greenhouses or windows).
Oops! If a skull or piece breaks, can it be mended?
In most cases, it can. Contact me for advice or repair at .
How can I protect my Dreams of the Dead skull and keep dust off?
Glass domes (see photo above) with wood bases and colored LEDs area available for Grande skulls. Email for details: .