"Dreams of the Dead" Sugar Skulls
Use the slideshow navigation beneath the photos to advance (>), pause (II) or enlarge photos (rectangle with arrow).
For more info about a photo, move your mouse cursor over the photograph. (If you don't see a slideshow, click HERE)
To view by skull size, click on the album icon on the bottom left of this slideshow and click a title.
Featuring interior "skullscapes" illuminated by LED lights
Peering into each skull is like looking into a tiny theater, complete with characters, stage sets, and lighting, and waiting for outsiders to invent the narrative. Like real dreams, the meanings and relationships are open to interpretation.
Not everything is as it seems. You may need to look inside many times before seeing each element: What looks like a tangle of roots is actually an octopus' arms, wrapped around a mermaid...Inside a Fine Young Cannibal, a tiny witch doctor rides a giant beetle through a sea of glitter... A giant's hand drags a submarine through a steampunk sea, as Darwin's creatures eyeball a collection of antiquities... These panoramic "dream skulls" turn traditional sugar skulls on their head.
Inspired by Mexico's Days of the Dead sugar skulls, my Dreams of the Dead skulls are cast in sugar, with most outer adornments made from icing and sugarpaste. Finely detailed interior elements and headdresses are handcrafted using antique papers, feathers, bones, hand-tinted parchment, found objects, and pretty, shiny things. Each skull undergoes 20 stages in its development, from sugar casting to food-colored icing, drilling, headdress construction, and LEDs. They are not meant for eating, and will last indefinitely with proper care.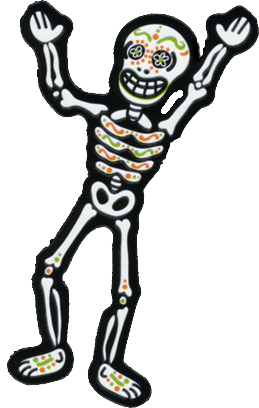 "Dream skulls" trigger the imagination. If as a kid, you delighted in panoramic sugar eggs at Easter, searched for hidden animals in Highlighter magazine, loved tunnel books and pop-ups, or fantasized about other worlds, you're sure to be enchanted by Dreams of the Dead Sugar Skulls.
Get inside my skulls. Collect them all! Each is original, numbered and signed. I've never seen these types of skulls made elsewhere. I also make custom skulls, using your own objects and photos, as shrines to loved ones, as gifts, depictions of your business, or as arty conversation pieces.
Skulls are now available at our Etsy store.
To view skulls in person, please visit The Mexic-Arte Museum and Yard Dog, both on Congress Avenue in downtown Austin, Texas. Each venue has a completely different selection of skulls available for purchase.
For questions or comments, or to inquire about purchase online, email